Pass Your Insurance Course…
from your home, office, or on the go!
We will prepare you to pass your exam with:
Comprehensive Content: Our pre-licensing courses cover topics on the state exam
Instructor-led, guided learning, allowing you to learn at your own pace
3-Month to 6-months access (depending on the course) to the training anytime, using PC, Tablet or Smartphone
Student support by a licensed instructor, 7 days a week (via email or forum post)

OnLine Lessons, Quizzes, Insurance Glossary of Professional Terms, And Final Exam
Required and recommended course texts are available for purchase in our Bookstore.

*CORONAVIRUS (COVID-19) UPDATES for Pearson Vue students
How do you get your Insurance license if you can't go to a Testing Center for your State Exam due to the Coronavirus?
In response to the COVID-19, certain Pearson Vue testing locations are currently open but with limited seating. (State exam must be scheduled and taken at a PearsonVue site. Appointment availability is limited due to social distancing precautions and varies by location.)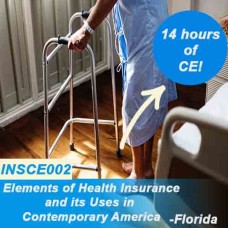 This course offers an overview of the health insurance industry and the elements of traditional health insurance. It has a special emphasis on Medicare Supplements and HMOs and includes two interesting case studies that test the student's ability to apply their knowledge to actual cases. This course has been approved by the Florida Department of Financial Services for insurance continuing education credit. No classroom attendance required. This FL Intermediate CE course is approved for 1..
Course topics include: Florida Statute 627.4554 Purpose, Definitions Products Ethical Considerations Duties of Insurer and Insurance Agent Education Requirements Bookkeeping Penalties Four case studies are also included The Florida Legislature passed a law addressing the issue of annuity fraud and strengthening penalties against Agents who use predatory sales practices. Since its passage, the statute has been revised and updated several times. The purpose of thi..