Products meeting the search criteria
This 40-hour pre-licensing course focuses on the role of the prospective producer, representing an insurer as to life insurance and annuity contracts. The course covers general concepts including underwriting, types of policies, provisions, riders, options, and exclusions. It explores personal, family and business use of life insurance products, as well as major tax considerations. The course concludes with an overview of state and federal laws and regulations governing insurance transactions an..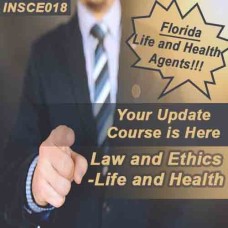 This class satisfies the requirement that 2-14, 2-15, and 2-40 Agents complete a 5-hour Ethics update course every 2 years, which is specific to the license held by the licensee and covers industry law updates, premium discounts, ethics, disciplinary trends, industry trends, and suitability of insurance products. This online course is divided into 4 areas of study, including Regulatory Awareness, Insurance Laws and Updates, Ethical Requirements and Disciplinary and Industry Trends) with fo..
Showing 1 to 2 of 2 (1 Pages)